Welcome to the official Rookie Wiki!
We are a free repository about The Rookie, a television series created by Alexi Hawley. We are currently editing over 346 articles, and you can help!
About The Rookie
---
Starting over isn't easy, especially for small-town guy John Nolan, who, after a life-altering incident, is pursuing his dream of becoming an LAPD officer. As the force's oldest rookie, he's met with skepticism from some higher-ups who see him as just a walking midlife crisis. If he can't keep up with the young cops and the criminals, he'll be risking lives — including his own — but if he can use his life experience, determination and sense of humor to give him an edge, he may become successful in this new chapter of his life.
---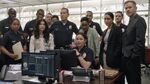 Officer John Nolan is forced to spend a week on solo duty in a quiet border town with a young local officer who is in need of some training. Meanwhile, Sergeant Bradford and Officer Chen discover that looks are deceiving and go undercover together in a possible drug trafficking case.
For guidelines related to this wiki, see the Guidelines page.
The Rookie Wiki
We're an encyclopedia run and maintained by people just like you! Created by fans, for fans, this community is dedicated to building a comprehensive and informative guide to the ABC series The Rookie. Want to share your knowledge? Sign up for a free account and start editing today!